Malcolm Company: Invoicing

INVOICING LINES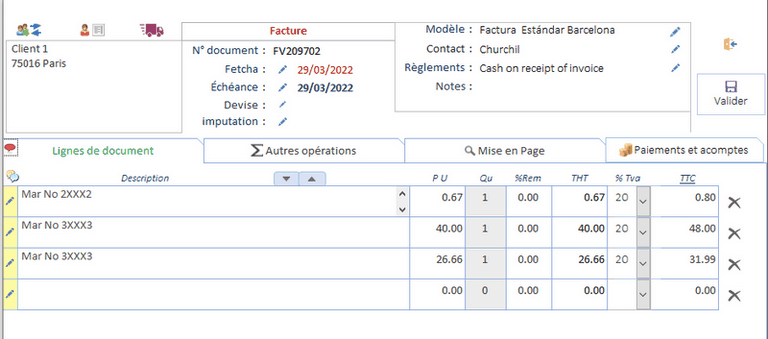 You have the option of inserting a global discount, and a financial discount (discount) on the entire invoice.
Each line that you add or delete then takes into account your price change and immediately recalculates the entire invoice.


SERIAL NUMBER, OR BARCODE
Displays, below each line, the field for entering the serial number corresponding to the reference.
This number is then used in inventory management.

OTHER TAXES

Shows the hidden column "Other Taxes". possibly attached to a reference.
This column is only informative and its amount does not enter into any pricing calculation.
It is up to you to pass it on, or not, to the price of your production.
Ex: Eco Tax

GLOBAL DISCOUNT - FINANCIAL DISCOUNT : CALCULATION DETAILS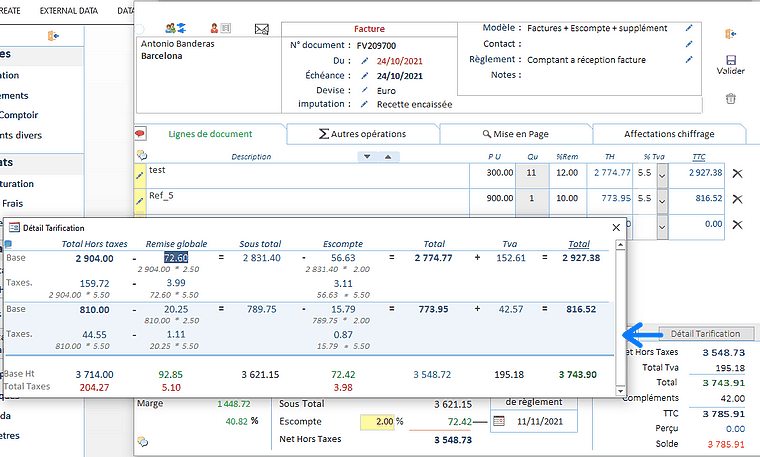 In a respect of transparency of the calculations made, and for each invoiced line, Malcolm Entreprise displays the details of the pricing that has been applied.
Application des Remises globales et/ou Escomptes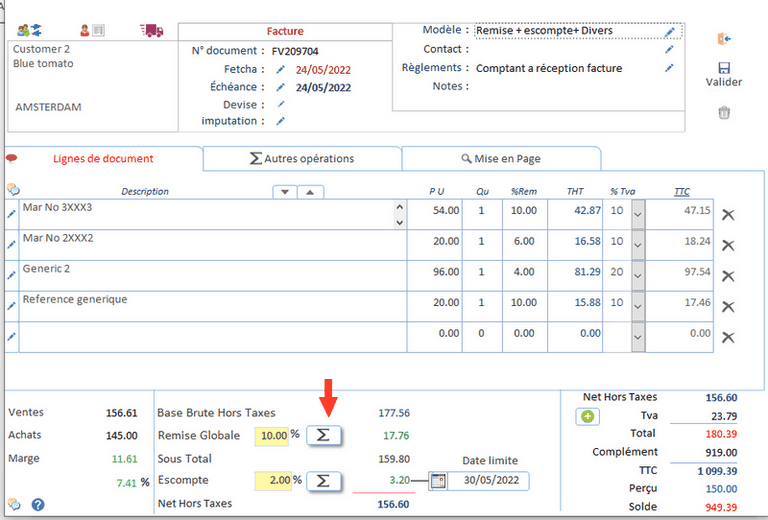 Vous ne pouvez plus effectuer de modification tarifaires tant qu'il existe un taux de remise ou d'escompte appliquè a votre facture.Vous pouvez annuler cet opération en entrant un taux de 0% (Les descriptions restent accessibles)
Procédure :
Aprés avoir déterminé votre taux de remise et/ou d'escompte vous devez cliquer sur le bouton
, pour recalculer la tarification. Aprés cette opération les champs se rapportant à la tarification ne sont plus modifiables.
Si vous avez un modification à effectuer, vous pouvez à nouveau débloquer les zones tarifaires en saisissant un taux de 0% '
puis cliquez à nouveau sur le bouton
pour restituer la tarification originale.
Visalisation des différents tarifs
Si vous cliquez sur le bouton "Prix avec Remise", cette action bascule automatiquement vers l'affichage des prix brut (hors remise globale et escompte),
Inversemment, si vous cliquez à nouveau sur ce bouton, le libelles de ce bouton et l'affichage sont mofifiés en conséquence.
Une fleche bleue , située au dessous , vous indique la correspondance tarifaire de l'affichage en cours.
Onglet "Autres OpérationS"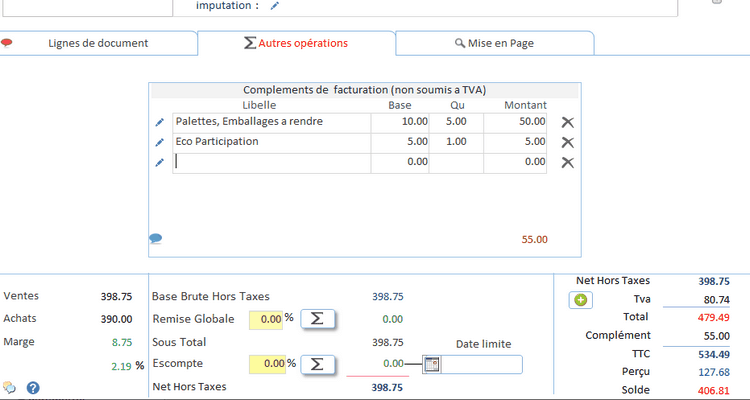 cette zone de travail détaille des éventuels compléments qui ne font pas partie intégrante de la facturation.
Les prix doivent etre exprimés en Prix net. (aucune charge de TVA ne doit etre saisie dans ce formulaire)
Ex : Emballages, Taxes exceptionnelles, Frais de port, assurance, pénalités de retard etc etc).
Le total des ses prestations complémentaires et reporté, et ajouté, sous la rubrique "Supplément" de la facture.
Layout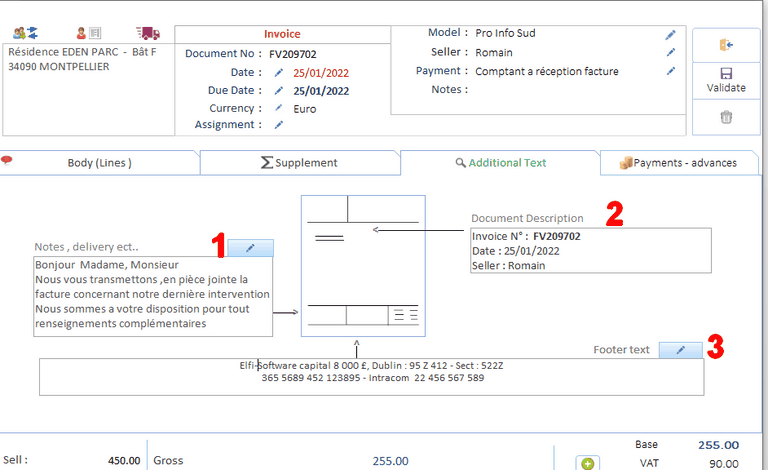 You have access to all invoicing text areas
A graphic informs you of the position of the text boxes
1 - Note field: Click on the pencil to select the accompanying text that suits you in the predefined text window or, .. compose the text of your choice yourself
2 - The text of this zone, Editable, is created automatically when the document is created
:
3 - The automatic selection of the footer DEPENDS ON THE PRESENTATION MODEL
defined in the document header
Related topic: Settings -> Layout - "Footer" tab